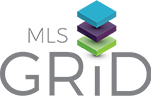 The MLS Grid platform removes barriers related to accessing multiple listing service data for real estate brokers and their vendors by providing a consolidated source of IDX and VOW information with a single, universal license agreement.
The MLS Grid compiles data directly from MLSs to create the single data feed, unifying compliance, display, and usage standards to ease the distribution process for all involved. Based on the latest RESO Standards, the MLS Grid not only modernizes the way technologists access MLS data, but the single license agreement appropriately governs the use of brokers' data.
As one of the founding members of the MLS Grid, MRED is proud to have been the first MLS to launch the platform.